Communication made simple
Our ODIN client is built on the ODIN SDK for voice, video and text messaging and can be easily customized for your very needs.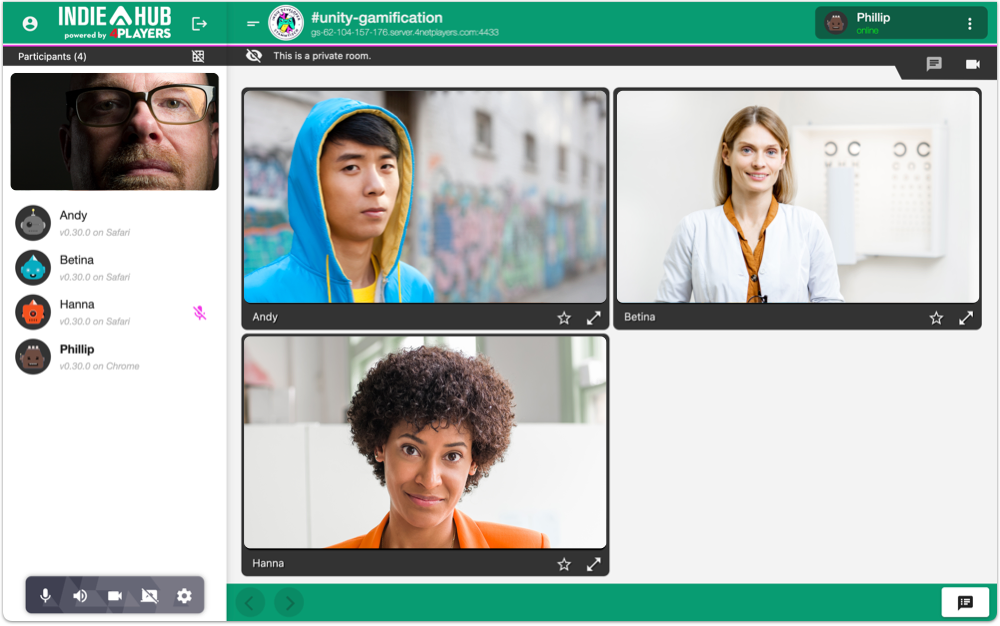 Fully customizable
Our client is fully customizable in colors, logos and functionality. See some examples from our customers below.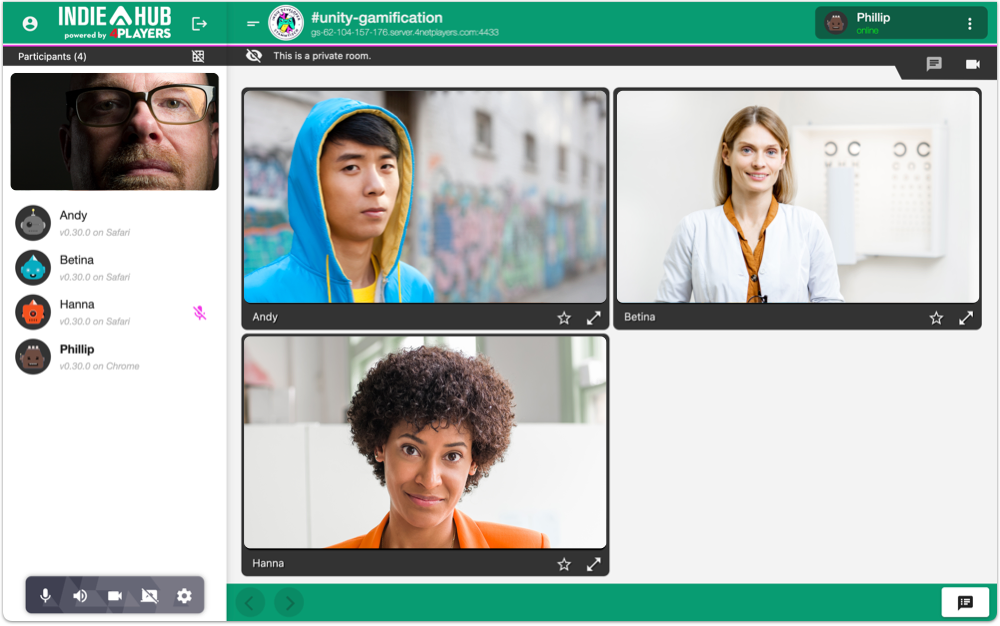 Indie Stammtisch uses our web client for online and hybrid conferences, hosting development talks and to keep developers connected.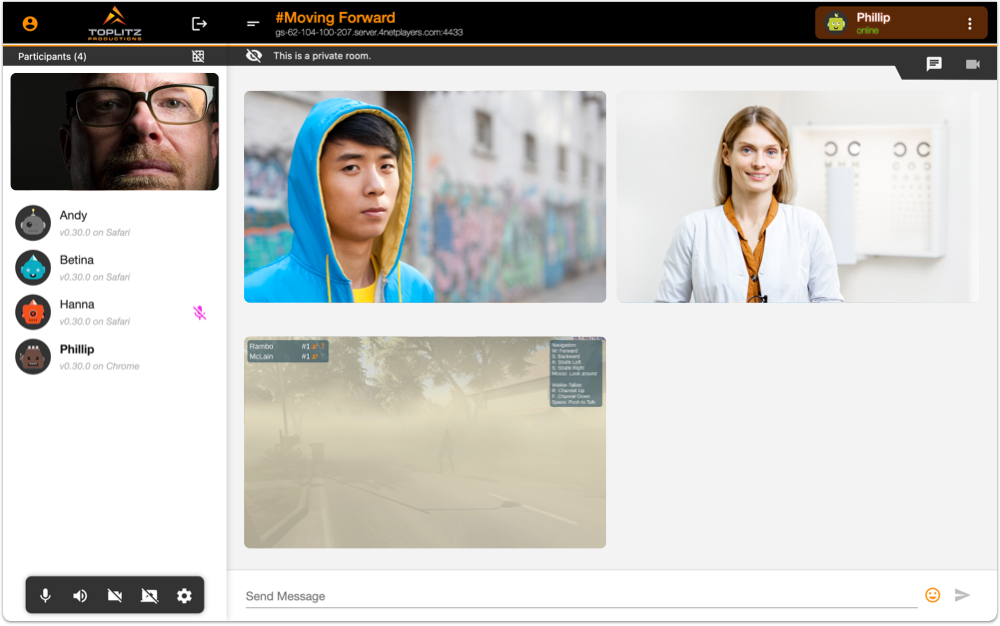 Toplitz evaluates ODIN web client as a tool for presenting games to media and internal discussions.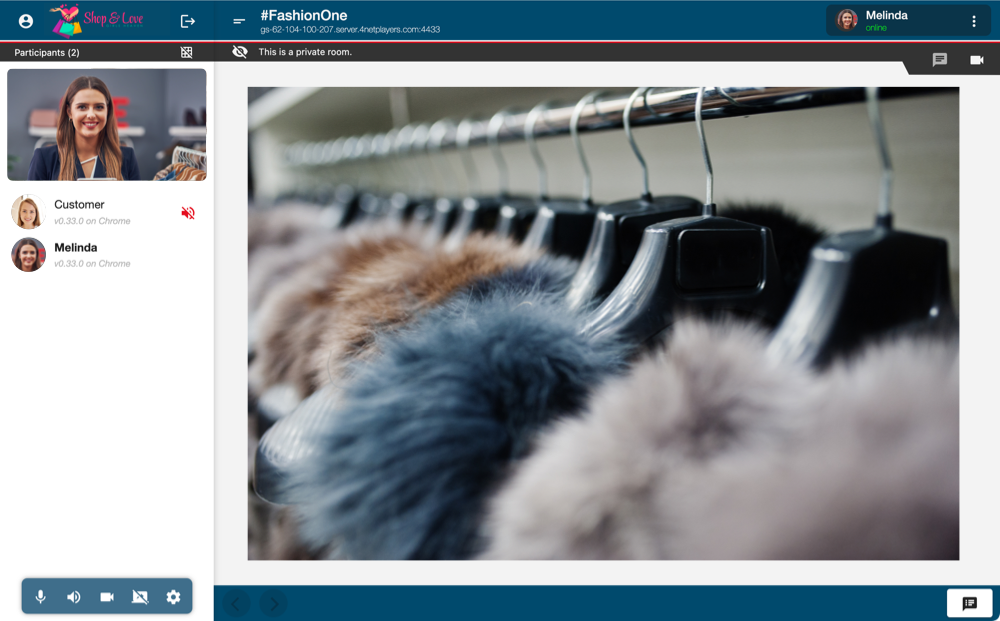 A sample app showing how to integrate ODIN into online shopping experiences.
Easy to use, easy to adapt
In combination with our ODIN SDK this web client brings many applications and experiences onto another level.
Hosting included
We provide the servers - always with traffic included. Don't worry about additional costs for traffic, maintenance and operations.
Customizable
Change the way your communication tool looks. It's great for employees to work in branded environments and sales will be more effective, too.
GDPR compliant
We don't store any data permanently. Rooms are created once the first user joins and are automatically destroyed thereafter. Neither chat history nor connection logs are stored.
No authentication required
ODIN web client can be included into existing authentication system. In many use cases no authentication is required at all. It just works, for everyone, everywhere on any device.
Fair pricing
The pricing model is simple and based on the maximum number of users connected simultaneously.
Voice, video and text
Connect users with voice, text, and video. Users can not only share their screens but multiple screens can be shared at simultaneously.
Pricing
For full control, you can host our servers yourself. get in touch to lean more about this option.
Trial
Free for development and evaluation
Up to 2 users
No registration required
Shared domain
Customizable
Pro
For production use
Support via Discord, Mail, Phone
Production ready
Private domain or custom domain
Customizable
No hidden costs
Powered by our global network
Leverage our global server network, optimized for real-time traffic: built on the back of more than 20 years of experience with hosting game and voice servers for gamers and the industry.
Low latency
Real-time experiences require extremely low latency and reliability. We are serving the industry with game- and voice-servers for more than 20 years.
Traffic included
Traffic is one of those things that is hard to estimate and harder to optimize. Don't worry about your next invoice as in all our services, traffic is included.
Scalability
Our global network relies on our own, proprietary server orchestration tools that allows scaling servers in real-time even with different port configurations and UDP traffic.