Hamburg, Germany, October 13, 2021 – German middleware and service provider 4Players announces the Early Access release of its communication software 4Players ODIN. Developed by veterans responsible for the renowned globally successful TeamSpeak software, ODIN represents the next generation of in-game voice tools.
The main features of 4Players ODIN:
comprehensive software solution
ultra-low latency, crystal-clear voice transmission
native support for Unity Engine (support for Unreal will follow at the end of October)
integrated 'Spatial Audio' support and 3D sound
deep engine integration instead of superficial voice layers
no restrictions on creativity: ODIN offers maximum flexibility for developers
fully customizable user interface
cross-platform compatibility
easy integration into existing projects
uniform code base for all engines, platforms and systems
encrypted and fully GDPR-compliant service
performance guarantee, optionally on your own or 4Players servers
fully scalable: ODIN knows no limit, no matter if 10 or more than 10,000 users
4Players ODIN is a comprehensive software solution with ultra-low latency and crystal-clear voice transmission. It is easy to deploy or modify thanks to native engine integration, so game designers can focus on the essentials rather than complicated tools: The creative realization of their game ideas, no matter what system they are developing for.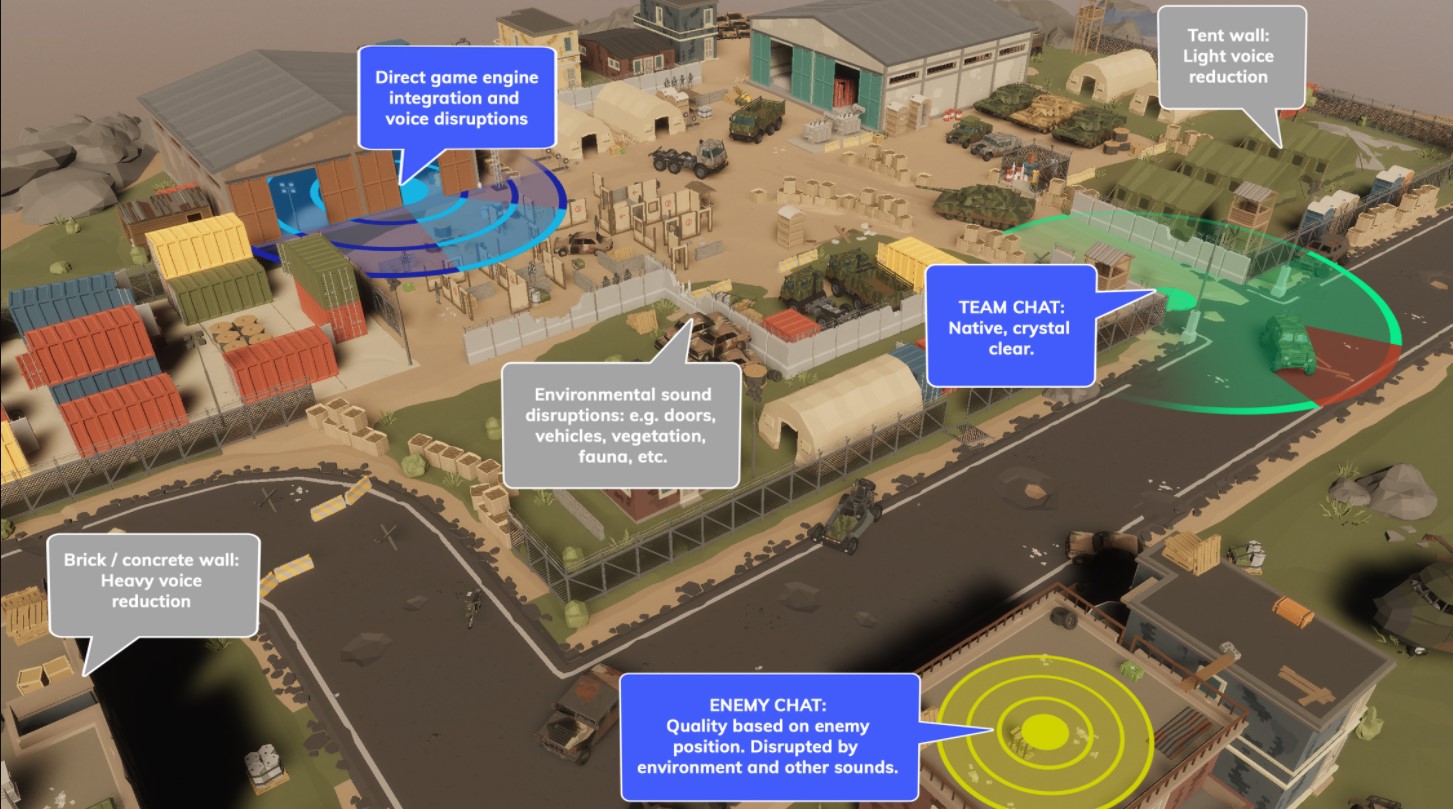 An example how ODIN's special capabilities can be used to lift immersion to a new level. ODIN goes further than other SDKs, redefining in-game voice: With spatial audio, 3D sound as well as a chat integration of the gamers' characters into the game environment, which has not been seen before in this form, new paths are broken in the area of in-game communication. In contrast to many of its competitors, ODIN does not superimpose a superficial voice channel on the game. Instead, you are directly connected to your fellow players, opponents as well as other parts of the game world via native engine integration. Voice communication becomes an integral part of the gaming experience. The SDK is fully GDPR-compliant with its encrypted communication transmission, whether you run it on your own servers or on 4Players servers.
For the Early Access launch, ODIN is fully compatible with Unity. Further engine integrations such as Unreal as well as console support are an integral part of the development roadmap and will be rolled out with coming updates.
Phillip Schuster, CEO 4Players GmbH: "ODIN was developed from scratch by passionate gamers specifically for the different needs of gamers, developers and publishers. We are very proud of the result, which not only connects our passion for games with our almost 20 years of experience with voice software and servers. ODIN is also one of the few communication solutions that transcends system or engine boundaries and enables a more immersive gaming experience with new features. Nevertheless, it is very easy to integrate into projects and, thanks to its open structure, can be easily adapted or modified to meet specific requirements. We are convinced that ODIN is the best solution for communication in gaming."
"Once you hear the difference, you don't want to go back to standard communication," adds Sven Paulsen, Project Lead of 4Players ODIN and former TeamSpeak-CTO. "Our SDK, with its focus on the essentials, is not only one of the most powerful but also one of the most scalable solutions for in-game speech. For us it was enormously important that our tool does not distract from the development process, but helps the developer to realize his creative ideas. And we have achieved this goal with ODIN."